A new version of Dash to Dock (v60) is available, introducing a dedicated windows thumbnails popup menu and monitor isolation. This release supports all recent of GNOME Shell releases (3.18, 3.20, 3.22 and 3.24)
The most notable feature introduced in this release, thanks to the work of Franglais125 and inspired by the dash-to-panel project, is an optional popupmenu showing the thumbnails preview of the open windows.
Windows thumbnails were already available inside the default launcher menu (right click menu), but a new dedicated popup menu more easily accessible has been now introduced.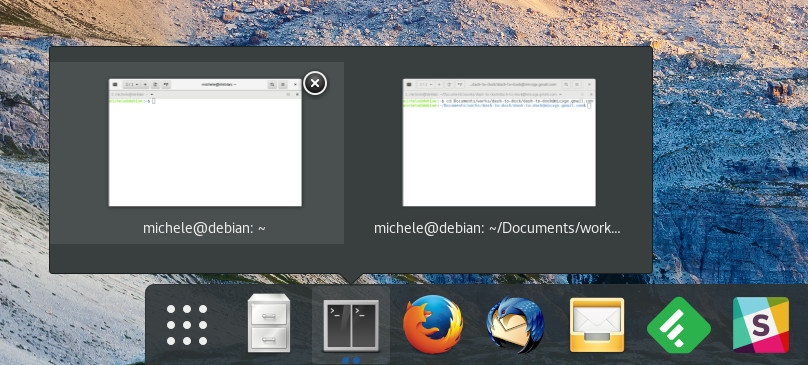 The thumnbails menu can be associated to any of the available click options (but not to the mouseover yet).
Additionally, when using multi-monitor docks, it is now possible to show only the applications of each individual monitor (isolate monitor option). Further fixes and translations updates, are listed in the release notes below.
As usual, the extension can be obtained from the extension website, or downloaded manually from the release page. See the alternative installation methods for instructions.
Release notes (v60)
New feature: implement windows thumbnails popup menu [franglais125: c7108993, 9a4e2f5d, 31fb0597, 3c9f7f3b].
New feature: implement monitor isolation for multi-monitor dock [franglais125: 93c5a7a9, 503b0081].
Bugfix: Fix mouse trapped in monitor with fullscreen windows [fcbfccf9].
Fix regression with click options [franglais125: 877cbd98].
Tweak click action behaviour [5003841b, 7bd08718].
Improve translations machinery [franglais125: 3fd4bdc9].
Improve extension inter-compatibility [passingthru67: 4c9480a4]
Update German translation [Christian González: 28d765a2].